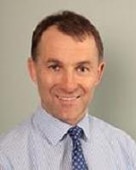 Sports Physician - Co-Medical Director Qsportsmedicine
Mark qualified in London in 1984. He spent 7 years in rural general practice in Alice Springs, before undertaking his specialist fellowship training for the Australasian College of Sports Physicians and Exercise Medicine (ACSEP) at the AIS in Canberra.
Mark is an experienced Medicare recognised specialist in sports, complex musculoskeletal and exercise medicine. Mark is further sub-specialised in non-operative spinal conditions and is skilled in CT guided spinal injections. Mark receives spinal referrals from GPs, spinal/neurosurgeons, pain management specialists and physiotherapists.
Mark is also an expert in diagnosing and treating complex non-operative musculoskeletal conditions such as pelvic, hip and shoulder pain. He is trained in interventional ultrasound guided interventions, to complement the management of most musculoskeletal pathologies.
Current Appointments:
State Medical Officer - Queensland Bulls, Queensland Fire and the Brisbane Heat.
Medical Director - National Cricket Centre, Brisbane.
Chief Medical Officer - The Australian Diving Team
Committee Member - ASDMAC (Australian Sports Anti-Doping Authority), Commonwealth Govt., Canberra
Registrar Clinical Training Supervisor- ACSEP
Specialist Sports Physician - Cricket Australia Cardiac Panel.
Past appointments have included:
Medical Director - ICC Women's World Cup Cricket (2020)
Australian Men's Team Doctor - Australia v Pakistan (2018), Dubai.
Australian Men's Team Doctor - T20 Triangular Series - Australia, NZ and England (2018).
Australian Men's Team Doctor - Australian ODI World Cup Cricket Team (2016), India.
Medical Director (QLD) to the Cricket World Cup (2015)
Team Doctor - Triathlon Australia, Rio Olympic Games (2016)
Chief Medical Officer - Australian Triathlon Team (2008-2016) and the Australian Softball Team (2000-2016).
Senior Honorary Research Fellow - Musculoskeletal stem cell therapies, the Mater Medical Research Institute, Brisbane.
Honorary Research Fellow - Translational Research Institute (QUT) and Brisbane & Royal Brisbane and Women's Hospital, Brisbane.
Team Doctor - Brisbane Roar Football Club, Queensland Reds Rugby Union team, and Queensland Firebirds Netball Team.